Hiren boot cd password reset windows server 2008 r2. 2 Ways to Reset Windows Server 2008 Admin Password 2019-05-13
Hiren boot cd password reset windows server 2008 r2
Rating: 4,9/10

584

reviews
Reset Local Administrator Password For Windows Server 200820037VistaXPNT
It is a great alternative and perfectly compatible with the newer versions of Windows. Here's how the task can be accomplished: Step 1: Boot the server machine using the installation disk. So, it will be better for the users to use Windows Password Recovery Tool. Everyone forgets password at some time or another, and sysadmins are not superhuman. How to get into get around it? So I type 2 and press Enter. In a few seconds, you'll see the PassMoz LabWin interface. Its as if there is no bootloader or anything.
Next
Microsoft Technology: How to reset Administrator password Offline by using Hiren Boot CD
When your computer has rebooted, you can log into Windows 10 without a password. So what to do in this case? The steps to recover Windows Server 2008 R2 password are the same with the steps above. Failing that, if you're on a domain, you'll probably have to rebuild the pdc and active directory domain. If on your Server computer is Windows Server 2008 R2 system, select the Windows Password Tuner Raid. Is there a free password cracking software to reset lost Windows password? After successfully resetting Windows Server 2008 R2 admin password, you need to revert the changes done to cmd. If you know the windows 2008 password policy, you can change a new one for it.
Next
Reset Local Administrator Password For Windows Server 200820037VistaXPNT
Step 3: Run the command move Utilman. Click on Command Prompt link. Step 3: Reset Windows Server 2008 R2 administrator password. Step 15: The procedure is complete. Choose your language and click Next. Passwords are highly recommended by experts because it lets you lock your valuable information and no one else gets to access it without your permission.
Next
[SOLVED] Reset Local Admin Password in Server 2008 R2
The boot menu will be opened to you. Although I will say, I've never tried it on Server 2008, although the page says it works. Method 2: Reset Windows Server 2008 R2 Password with Windows Password Recovery If you want to get 100% successful result by following an easy step by step process for Windows server 2008 r2 password reset issue, then can solve your problem. Make a Spower password reset disk with Spower software. But most people panic in such situations, it is true that there are lots of important data on that device and you need to get access to that immediately. You will never worry about data loss or operating system crashed.
Next
How to Reset Lost Windows Password with Hiren's BootCD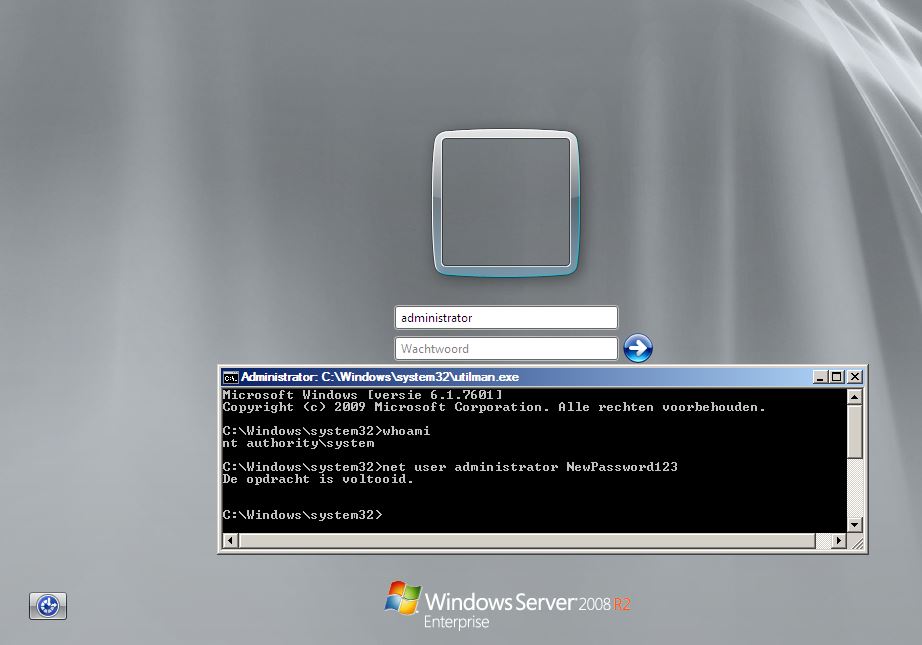 Step 2: Now, run the program and select the reset medium. Now the screen will display a list of local user accounts existing on your registry file. Windows server 2008 domain users need not get frustrated anymore as they have the excellent and the most user-friendly tool to reset the password, such that they can easily get into the server to give a new and unforgettable password. Step 8: Close the command prompt screen, try to login with the new password. If you have created a password reset disk before forgetting your Windows Server 2008 R2 admin password. Solution 2: Reset Windows Server 2008 R2 administrator password with password reset disk. Then enter the password changes to disk and enter y for yes and press Enter.
Next
Reset Local Administrator Password For Windows Server 200820037VistaXPNT
So I did it… I cloned a domain join virtual machine… I did not sysprep it and I left the domain… so when I went back to the original machine no domain logins would work. When wizard starts, it is easy to create a new password for current user by following the instructions. One such situation is a system administrator forgetting or losing a Windows Server 2008 R2 password. It works well enough to blank the Adminstrator password allowing you to reset it on next login. Press F8 during the textmode boot phase and select Directory Services Restore Mode. Run the command copy Utilman.
Next
Forgot Windows Server 2008/R2 Password no Reset Disk
How to reset administrator password Windows Server 2008 r2 Help please! Be warned, however, that utilities which attempt to replace passwords from a boot environment have been known to cause more problems than they are worth. You need to back up the utilman. An employee who recently quit installed a server for a client, but forgot what he gave the local admin password, as well as the domain password and anything given to the customer is incorrect. This means, you are choosing which part of the registry you want the software to load in and choosing the edit option for user data and passwords. Now, this article summarizes some solutions for forgetting Windows Server 2008 R2 administrator password, whether the local admin or domain admin password. See the picture below: Step 4: Next, type in the command to copy cmd.
Next
Reset Forgotten Windows 10 Password with Hiren's BootCD
My server is a domain server, so I cannot use free password recovery tool to recover the lost password. Step 3 Remove Password from Target Account Now remove the drive or disk from the other computer and insert it into the one that's locked. You need to look for 3rd party apps and solutions. After that, don't click next. The and the recovery software are both in that single program.
Next
How to Reset Your Forgotten Domain Admin Password on Server 2008 R2
Type the username whose password you want to change and press Enter. Then you can logon to your Windows Server 2008 R2 administrator with the newly reset password. It will take up to 1 minute. Now, close the command prompt dialog and exit the Windows Server 2008 R2 installation disk. Step 4: When the Windows password reset dialog appears, follow the detail steps on it to reset your user account password.
Next